Messy Neighbour
Messy Neighbour
Location
Back Gardens
Habits
Paints, prunes, spies on Tidy Neighbour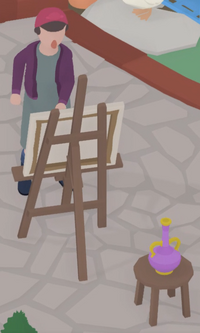 The Messy Neighbour is a villager located in the Back Gardens in Untitled Goose Game. As opposed to her tidy neighbor, she will not remove items from her yard that don't belong to her (because of Tidy Neighbour's tendencies, this can lead to quite a mess). In addition, she mended a broken fence with a bit of yellow ribbon, hung her socks and bra out to dry, and leaves a broken desk in pieces. She enjoys painting at her easel, but will occasionally spy on Tidy Neighbour. She has quite a selection of lawn ornaments, and a shrub she has been pruning into the shape of a squirrel. She also has a statue of a duck with a red bow, but will tie the bow on the goose if the player stands still in the duck's place.
She has a bust in her yard, which she will dress up if she finds items in the collection bowl in front of it. Acceptable items include:
She tolerates the Goose, but will place a "No Goose" sign if something dreadful should happen to Tidy Neighbour's prize rose (see the to-do list).
These items can be picked up or dragged.
These items can only be pushed.
Wind Chimes (cannot be removed from the area)
These items cannot be taken or removed from the area, but instead are used/operated when clicked on.
Lawn Ornaments (3)
Wind Chimes
Squirrel-shaped Bush
Duck Statue Base
Giant Bell Hammer
Fence Gate Ribbon
Honk while holding the soap