Tidy Neighbour
Tidy Neighbour
Location
Back Gardens
Habits
Drinks tea, reads newspaper, throws everything over the fence that doesn't belong to him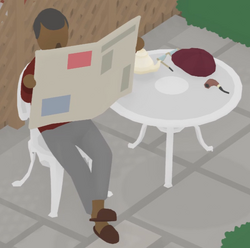 The Tidy Neighbour is a villager in Untitled Goose Game. He lounges in his backyard in the Back Gardens. His actions include drinking tea and reading his newspaper.
It is apparent he smokes a pipe and enjoys cricket. He is very tidy and will throw anything he finds that doesn't belong to him over the fence he shares with his neighbor.
He enjoys growing roses, and has grown a prize rose.
He tolerates the Goose. If the Goose completes five tasks on the to-do list, he will place a "No-Goose" sign on his fence. He will remove the ribbon while on the goose and throw it back.
He does not always notice items that have been placed in the bottom half of his garden, making some tasks easier.
These items can be picked up or dragged.
These items can only be pushed.
 Broken Bit (because of the difficulty in pushing it, it is unlikely that the Goose will be able to remove it from the area)
These items cannot be taken or removed from the area, but instead are used/operated when clicked on.
Tidy Neighbour's splitting fence
Yellow Ribbon holding fence together